Column: Sorting fact from fiction in UVa's exit is a difficult endeavor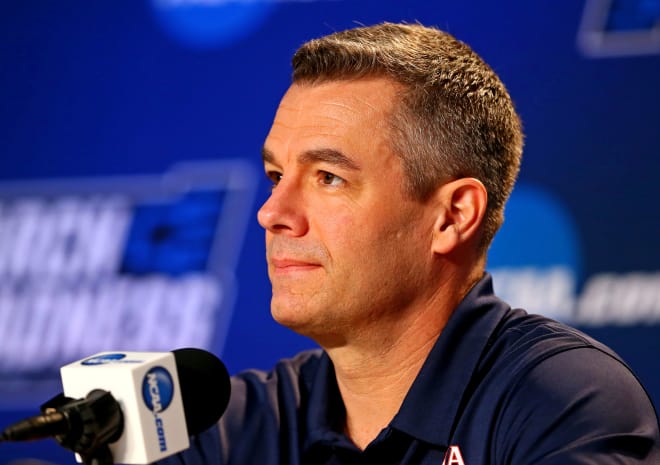 The sun rose this morning, three days after a shocking and unexpected and embarrassing end of what just days earlier had been a magical hoops season for the Wahoos. In two hours, it felt like 31-2 had been wiped away and in its place were howls of doubt, scores of laughs, and the reality of being on the wrong side of history. Forever.
In typical Tony Bennett fashion, his graciousness immediately after the loss to UMBC was readily apparent and the standard by which we should hope all coaches (and people) handle disappointment. And it set the right tone, both for the moment and for the future. Yet, for some, it also underscored how awful it feels when doing it the right way doesn't lead to success on the game's biggest stage.
And that's where things stand, three days removed from one of the biggest upsets in the history of sport. If you go by Vegas' insights, there have been bigger underdogs who have won games in the NCAA Tournament. But the 1/16 dynamic trumps that for many people. Either way you come down on this, it was as improbable and it was thorough.
The Cavaliers didn't just lose. The 16 seed beat them by 20, a margin that was somewhat impacted by the fact that UVa got down by 14 going into the under-16 and rather unsuccessfully tried to be someone else for a bit. They scrambled at times trying to press things more and they took quicker shots in an effort to lengthen the game. No matter what, the Hoos had no answers for UMBC, which hit 12 of 15 from the floor over the final 11:44 (after leading by 14) and actually went 23-for-34 from the 6:12 mark of the first half on. It was like the first Clemson game but in reverse.
Immediately thereafter, there were scores of hot takes that darted across the internet. Many of them were based as much on confirmation bias or raw emotion as anything else.
But there's no escaping the fact that UVa has done very well in the regular season in recent years but has not done remotely as well in the postseason. That's an undeniable fact. Figuring out "why" has already launched countless thinkpieces, including this column.
The place to start, at least for me, was oddly enough a comment that came during the ACC title game from my friend Joe Giglio, a veteran reporter who covered NC State for the N&O prior to moving to the Carolina beat this year.
Heels down 48-44 at the under-12. UVA has not exactly had to deal with a ton of game pressure this season

— Joe Giglio (@jwgiglio) March 11, 2018
Now, the context here is that Joe tweeted this just before the under-12 in Brooklyn, with Carolina having just hit a 3-pointer and UVa having gone nearly three minutes without a point. The Heels cut it to two after Joe's tweet but the Cavaliers responded with a 10-3 run and then hit 10 of 12 free throws over the final 1:57 (including 8-for-10 in the final 57.7 seconds) to win the championship.
In Charlotte (before the unthinkable happened the following day), Joe and I talked about this idea of "game pressure." And I made the point that UVa had been in tight-ish moments like in Brookly, games where the Cavaliers had dealt with varying degrees of game pressure only to win either close or comfortably: The BC win in the conference opener, the Syracuse game got tight late for no apparent reason, UVa had looked rough in spots in the wins at GT and at Wake, the team had to gut out the win in Cameron, the first UL game was tight, the Hoos trailed in Tallahassee before losing to Tech at home, they trailed in Coral Gables and played through some issues against GT at home, and then needed the comeback to win at Louisville and trailed in the second half against ND, too.
I break all of that out to form the basis of a question which is...so why not this time? What was different here?
And that leads to what is the hardest thing to discern when it comes to sorting fact from fiction about this team and this program in general: Is there a fundamental difference to playing in the NCAA Tournament that is not consistent with playing any other time?
Surely, it stands to reason that the psychological aspect of the Big Dance makes it different from the regular season and even the ACC Tournament. This isn't a March problem; it's an NCAAs problem. It seems foolish to think the mistakes of past UVa teams and the pressure to "prove" itself on the biggest stage doesn't play into it.
But what struck me most about the way this game went was that the players were panicked. Perhaps that's a function of missing so many shots and seeing the other team make them, as was the case for UNC against Texas A&M yesterday. Maybe too that's the impact of the size of the deficit they faced, also true of Carolina's loss. Either way, it was something that had not happened to UVa in any of the aforementioned games.
Clearly in many of those contests, De'Andre Hunter was a factor and a big one. Not just the banked 3 in Louisville, but he made plays like the key jumper in the Notre Dame game throughout the year. He obviously was clutch at the stripe in the ACC title game, too. That Virginia didn't have him is an important nuance that both is a real thing that matters but also doesn't excuse losing when you're such an overwhelming favorite.
Having Hunter would've given Bennett another option to move on Jairus Lyles as he was going nuclear but it wouldn't have changed the way everyone else seemed out of sorts from the tip. Having Hunter would have helped give UVa some offensive variety but it wouldn't have made the Cavaliers make wide opens shots that they missed.
In this space, I've always been a big proponent of the idea that two things can be true at once. And here, then, is perhaps the most frustrating reality of all for UVa fans: Just because something isn't broken doesn't mean there aren't things that can't be changed or added for the better.
It stands to reason that UVa could play a little faster without it being a detriment to its defensive system. It stands to reason that the Hoos need more guys who can go get a bucket (without Hunter on the floor, that was the most glaring deficiency) when the offense is struggling. And it stands to reason that running the same sets won't just get the guards going by nature of repetition; there needs to at times be some variety.
A long offseason has begun, one where everything will be scrutinized by friend and foe alike. How the players respond will be as important as how the staff decides what needs tweaking and what doesn't.
In a time when sorting fact from fiction is especially difficult, of this there is no doubt: Whatever changes do or don't come, the pressure is on UVa to prove itself.
JOIN CAVSCORNER TODAY!
If you are not already a member of CavsCorner, come join us and see what all of the buzz is about.
Click HERE to subscribe and get all of the latest news and join hundreds of other UVa fans in talking about Cavalier football, basketball, and recruiting. You won't be disappointed!