UVa impresses Killeya-Jones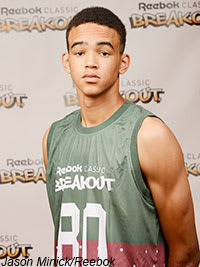 If you're going to hold a team to an historically low level of offensive output, it's not a bad idea to have one of the nation's top prospects in the house to watch you do it.
And that was the case Sunday afternoon as UVa hosted Rivals150 power forward
Sacha Killeya-Jones
while trouncing Harvard 76-27, tying an NCAA record by allowing just one field goal in the first half.
Killeya-Jones, a 6-foot-10, 207-pound big man from Virginia Episcopal in Lynchburg, told CavsCorner that night that he couldn't have been more impressed with what the Cavaliers did to a Harvard team he thought would be a real test.
"It's got to be the most incredible defensive performance I've ever seen," he explained. "But I think the most impressive thing was that they didn't let up. They didn't just start coasting once it was clear that they were going to win the game pretty easily. There were a couple of times where Harvard would get to the basket and draw a foul or something like that and you could see frustration on the players' faces about letting them get that. They weren't happy with themselves for even allowing that little bit of a chance.
"They were in attack mode the entire time," Killeya-Jones said of UVa. "It was just crazy how tough they played the entire game and they never let up."
Going into the game Killeya-Jones, the No. 114 ranked player in the Class of 2016, said he was expecting the Crimson to put up a fight.
"I thought it would be a close game, honestly," he said. "Harvard isn't a bad team but UVa really came out so strong. It was really impressive watching them do what they did."
As someone who also does his damage in the post, Killeya-Jones enjoyed watching junior center Mike Tobey get going early for the Cavaliers and having a dominant start to the game. The way they use their big men is one of the reasons why he likes Virginia so much.
"I definitely feel like I fit into their system and what they do really well," he explained. "The way they use their bigs and they way they stretch out some of their big men, I like that a lot. Offensively, they don't go away from the bigs. You saw when Tobey got going, they kept feeding him the ball and letting him do what he needed to do. And defensively, I know I'll fit right into what they like to do. It fits me really well."
This wasn't his first trip to John Paul Jones Arena to see the Wahoos in action but it was, he said, the most dominant he's ever seen them.
"I've seen several of their games and they're always an impressive team to watch," Killeya-Jones said. "Every time they step on the floor, they're giving you max effort but this was definitely the best I've seen them play. No question."
After the game, he and his family got a chance to spend some time talking with head coach Tony Bennett. And while assistant coach Jason Williford and the rest of the staff do a great job of making Killeya-Jones feel like a part of the family, it's the relationship he's built with Bennett that really helps the Cavaliers stand out.
"We were catching up and talking about our seasons," Killeya-Jones recalled. "I talk to him a lot on the phone and he and several of the players came up and saw me play the other week at Blue Ridge. He's a really good guy and I really like Coach Bennett a lot. I like everything about him.
"He's definitely the most active head coach when it comes to recruiting me and I really love that," he added. "He's the head coach I hear from the most and I definitely appreciate that because I know that's a tough job. I love the way he coaches and especially his demeanor on the court. I'm not sure what it is about him but I really like his style on and off the court. He's really honest with you and he's always been like that with me throughout the recruiting process. He doesn't sugarcoat anything. He's real with you, always."
With offers already in from schools like UVa, Notre Dame, Old Dominion, VCU, Virginia Tech, and Wake Forest, among others, recruiting is really starting to get going for the VES standout. Thus far, the process has been about as he expected.
"It's been hectic at times but it hasn't been too bad," he said with a laugh. "It definitely got crazier when coaches could start calling and texting in June but it wasn't that bad. It's picked up a lot, though, but you get used to it. There are also a lot of people on the outside trying to tell you what you should do, people I don't even know. That gets old but you have to just ignore the noise and focus on yourself."
At this point, Killeya-Jones says he's not looking at a specific timeframe on when he'd like a decision to be made but that's something he plans to discuss with his family and his coach over the Christmas break.
"This isn't a decision you can make without your family so it's important for me to have them there on visits and we'll talk over break about what's coming up next," he said. "And I want to talk to Coach (Curtis) Staples because he's obviously played this game at a high level and he understands everything that goes into it.
"I want to talk to all of them over break about it and get a plan together," Killeya-Jones added. "I know I want to be somewhere that I feel comfortable on and off the court, somewhere that I feel like I'm a part of the university and not just a basketball player only. I want a coach that I feel comfortable with in a program that wins and I want to be somewhere that challenges me academically because that's going to be a big focus for both my family and for me."